Interview with Skelectables NFT
Project Founder: Scott Warne
Business knowledge:
As a director of SHYDOG CREATIVE Ltd, my team and I have helped over 23,000 businesses and brands with solutions for their digital and branding requirements, including logo design, QR code creation and QR code subscriptions, creation of autoresponder bots, the hosting of email signatures with more than 550 subscribers and growing daily subscription of digital business cards through the talking V-card, web design and website administration, social network design and social media advertising and video intro creation.
As a digital company, we also operate decentralized domain ownership and management, including top-level domains, subdomains, NFT creations, and brand ownership with the Skelectables NFT collection, as well as crypto exchanges and projects.
In 2018 I also founded and registered The Signature Logo™ which operates under SHYDOG CREATIVE Ltd.
Signature Logo™ continues to grow and adapt in the digital branding space with projects including over 180 published book covers, numerous private yacht graphics, private aircraft decals, vehicle graphics, store and business signs, people branding social media influencers, YouTube channel branding, a Netflix series, over 400 podcasters, and thousands of independent businesses. We even branded a 30,000 square foot restaurant in Las Vegas for a well known NFL player! It is now one of the growing referral website platforms for startup branding requirements in the US.
Proud to have taken the company from zero to a seven figure valuation as an independent GSB (Global Small Business)
Most recently we have developed and launched the Skelectables™ NFT project and we are very excited to build the community with you.
Chris: The Skelectables aren't just a regular art project. These tokens make trading exciting. How do you explain the concept and goal of Skelectables NFT?
Scott: We're causing a stir in the NFT space! No more boring projects or promises of a free concert you'll never attend or tickets to a conference on the other side of the world… Holding a Skelectable NFT or Skele as we call it will bring you vainglory, envy, greed, gluttony. , anger and laziness every week from the moment you join the organization… Once the project goes live via roadmap activation, we will issue a total of 1,000 NFT in weekly giveaways along with prizes cash totaling over $600k and someone will walk away with the $100k Treasure Chest! This will bring you excitement and engagement every week!
It's not about art – it's about you owning a Skele NFT, trading Skelegibles for profit, and getting involved in organizing an exciting and unique NFT project.
The goal is to mint and trade the Skelectable NFTs and attempt to hold one of the 800 "Boss" positions which could ultimately lead to becoming the "Don" of the Skelectables and winning the top prize in the Treasure Chest. .
If you achieve a "Boss" position, then you will compete with other Bosses for hierarchy within the organization. This is decided by the point value of the Skelectables he owns and at the end of 52 weeks the "Gift" will be announced and that person will win a majority share of the Treasure Chest.
We think we have created a project where secondary sales should be a very exciting proposition and also where having your Skele is just as exciting as it means you are included in the weekly giveaways and other benefits. A win-win situation! Details of the Skelectables project are being released online and the excitement of who will fill one of the 800 "Boss" positions is growing fast!
Chris: Skelectables is also offering weekly giveaways and a $100,000 treasure chest. What are the ways one can enter the contest to enter these sweepstakes?
Scott: The great thing about Skelectables NFTs is that from the moment you buy just one NFT you're in the game! Your NFT has a number and this number is automatically entered into each draw we run each week.
As a Skelectable holder, your NFT number will automatically be entered into the weekly "Raffle Wheel" listed below.
• Every Friday, all winners will be entered into a live raffle. We'll spin the wheel 5 times to give away 5 "High Income" Skelectables; with other competitions and puzzles, we will be giving away 300 "High Earners" in total to combine with the other 3,500 that will be available to mint.
• Every Friday, all winners will be entered into a live raffle. We will spin the wheel 3 times to give away 3 "Capo" Skelectables; with other competitions and puzzles, we'll be giving away 200 "Capos" in total to go with the other 1,044 that will be available to mint.
• Every Monday of each week, all winners will be entered into a live raffle. We'll spin the wheel 8 times to give away 8 "Boss" Skelectables; with other competitions/giveaways we will be giving away 500 Bosses total to go with 300 being in the mix to mint.
Chris: Also, what are the 800 Boss positions? How does an investor become a Boss? What will be the benefits of becoming the Boss?
Scott: If you're lucky enough to mint a Skelectable, you won't know which Skelecatble you have until the reveal, which is 24 hours after the public minting. We do this so that we can create a fair playing field.
Once owners and potential buyers know what status their Skelectable is in, we anticipate a frenzy of buying and selling as owners try to get into position and claim the Treasure Chest as head of the organization.
Throughout various stages of the project, there are weekly draws via our "spinning raffle wheel" – we have giveaways and prizes for holders of any of the Skelectables, so no matter which Skelectable you own, you'll always be in the game. and will always have something of value.
During giveaways we automatically enter all NFT holder numbers into a raffle wheel and spin the wheel live to reveal the winning holder numbers, so the more Skelectables you own the more chances you have, however you could have just 1 Skelectable as a "Capo". and this will be in very high demand and command a high price on the secondary market!
We have a roadmap of the NFT project stages and at each sales stage we will unlock parts of the project with some amazing gifts and contributions to the Treasure Chest!
To become a boss of an organization and claim the "Treasure Chest", you will be required to have the "Skelectable Trio", listed below.
• 1 Skelectable for high income
• 1 x selectable capo
• 1 x Skelectable Boss
Imagine this scenario, if you win a "Boss" in the weekly draw and you already have a High Earner, will you buy a Capo or sell it? Or maybe you have a Runner but then you gain a Boss! You will have a dilemma, start your quest to get a High Earner and a Capo or sell for a lot of money!
If you acquire the trio of all 3 Skelectables, you can take their place as one of the heads of the organization and claim the "Treasure Chest". points you have you can have 5 extra racers or you can have 2 Capos etc so at the end of the 52 weeks we should have our 800 Organization Heads and then the hierarchy or the winner will be decided based on how many points you have.
The "Don" will win 50% of the treasure chest and receive a custom "Bullet Tooth Boss" NFT! The top 50 bosses will share 40% of the treasure chest with the remaining 10% going to 50 more bosses in the raffle wheel!
All 800 Organization Leaders will also be rewarded with free minting of a Skelectables WAG in the Skelectables Tracking Project.
Chris: For the purpose, what will be the characteristics of the token? These tokens are works of art on the digital platform. So how are they different from other artwork tiles?
Scott: The toke will be the Skelectables NFT character – their characteristics have morphed and changed over time due to the harsh environment in which they now co-exist with the complete scum of Earth. Somehow, some can still grow hair and facial hair, there are some with tattoos and different glasses, while others who were jewel thieves on Earth have gold teeth and piercings. They have access to weapons including axes, pitchforks, and even guns among other things!
Most Skelectables are immune to the B206 virus that is rife in the Skeleverse: this virus attacks every bone in their body, driving Skeletons even more insane. Some Skelectables will protect themselves with face covers while others just don't care and want to get infected, making them even crazier!
The Skelectables have retained much of their fashion sense from their previous life on Earth and some of them look very ugly. Some love to smoke whatever they can get their hands on and others love to show off their wealth with their teeth.
Chris: Also, what are the traits that make each of them unique? Do you also have a rarity reference table?

Scott: There are 8,888 unique Skelectables, all with different characteristics. These unique traits will validate what type of Skelectable you have. There are 4 different Skelectable status hierarchies, all with different point values ​​and they are listed below:
A Skelectable "Runner" with no hierarchy but possibly very rare traits that can win occasional prizes. These are valued at 5 points each.
A "High Earner" Skelectable – This is a Skelectable that has a certain hierarchy within the organization and has amassed treasure or accumulated money and may be valuable on the secondary market. These are valued at 20 points each.
A "Capo" Skelectable – This is a Skelectable that is the second in command of the Bosses and will be very valuable on the secondary market. These are valued at 30 points each.
A Skeligible "Boss" who are the Bosses of the organization and there are only 800 of them running the organization! If you have one of these, they will be in very, very high demand. These are valued at 50 points each.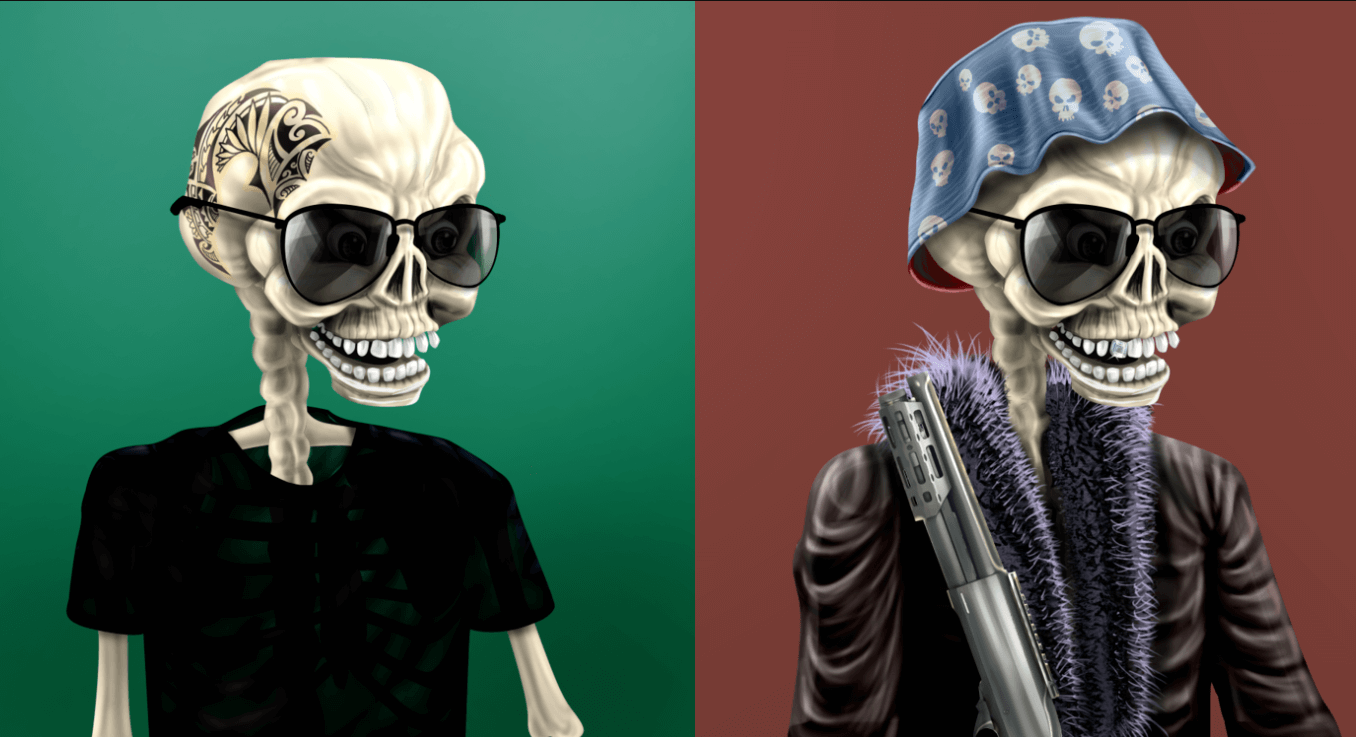 Chris: At the same time, what will be the cost of a Skelectables NFT? How much of the cost would correspond to the gas rate?
Scott: We anticipate the cost of a Skelectables NFT to be around $250 USD public and around $200 USD for whitelisted members. Gas fees are not included and the buyer will have to pay Gas
Chris: Before closing, please share your plans for the future of Skelectables. Do you plan to launch another series soon?
Scott: We're in this for the long haul and the 52-week "Don" project is just the beginning. Skelectables™ is a trademarked NFT project and your Skelectable will always have value and we will continue to raffle prizes and also continue to put 5% of all secondary sales into a new Treasure Chest. Any owner of Skelectable will continue to have partial ownership of the Metaverse property and will share in the growth of this asset. We are already looking at Skelectable WAGS as a follow-up project and this will integrate with existing Skelcetables™, so there is a lot to look forward to and the Skelectable community will grow and evolve. Also, don't forget to join our Discord and Twitter. It's the best way to stay informed about news and announcements.
Source link