Interview with Depressed Dragon Club NFT
Chris: hello! Can you tell us more about yourself and the role you are playing in this burgeoning project?
JD: My name is JD and I am the founder of The Depressed Dragon Club. I'm a CFO and have battled depression all my life and I love Cryptocurrency and NFTs and wanted to build a community so people could talk about anything and blow off steam as well as discuss the project and other Cryptocurrencies. related topics, as well as obtaining an NFT that will benefit them (the holders) in the long run. I am new to creating an NFT project, but I want to take this project and the projects to the moon and see others create their own wealth with their NFTS.
Chris: Depression is a common mental health problem today. How will the Club of the Depressed Dragons help through their latest release of 10,000 tokens?
JD: Yes indeed it is and The Depressed Dragon Club will have a Discord channel for headlines just to talk about their struggles or just to blow off some steam after a bad day. We are also proud to announce that once these are sold out, The Depressed Dragon Club will donate $250,000 to The National Alliance on Mental Health.
Chris: Tokens are a piece of digital art. What makes each NFT different from the others in the collection? What are the different traits?
JD: Each of our 10,000 NFTs is 100% different and unique in its own way, from something as incredible as a laser eye to something as small as a joint in your mouth or biting into a Bitcoin. But we do have rarities for our dragons and they are as follows: 1% will have a diamond skin 3% will have a shiny gold skin 6% will have a rainbow skin and will have spots or no spots 20% will have a cool tiger Skins: 25 % will have spotted fur, 45% will only have regular fur of different colors. We're excited to see how everyone turns out on mint day and will be doing Sneak Peeks on our Discord and Twitter.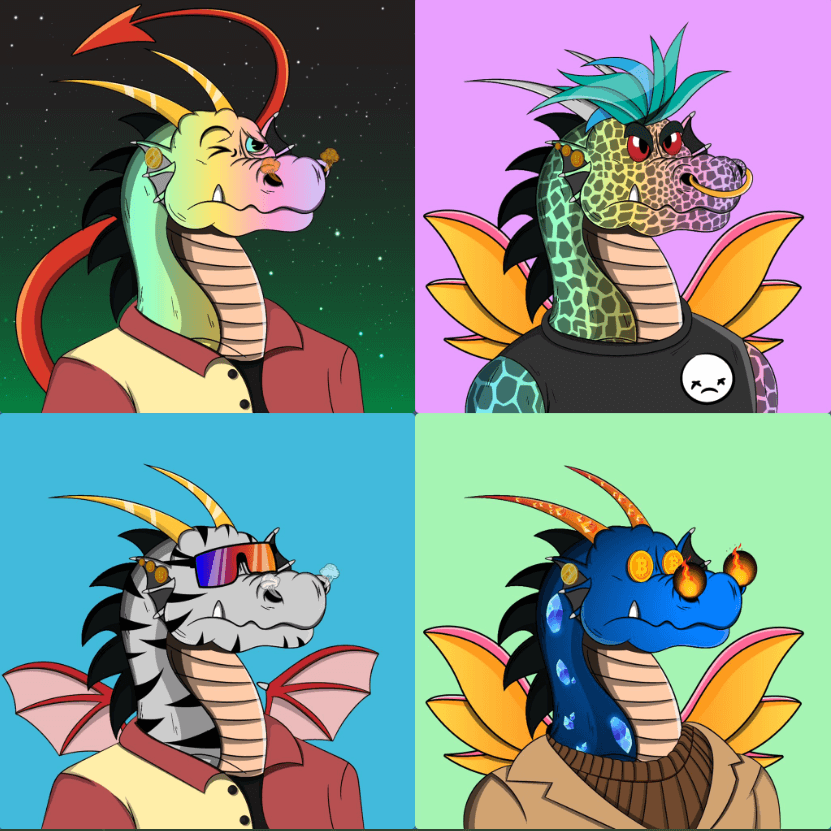 Chris: Also, what is the expected price of the token? How much of the cost would be part of the minting cost?
JD: So whitelist members can mint up to two depressed dragons at a price of 0.1 ETH + GAS and if not all are sold out in the whitelist sale there will be a public mintage and each NFT will cost 0 .2 ETH + GAS.
Chris: The first roadmap also specifies a presale. Is it possible to get on the white list? How many tokens will be for sale in the presale?
JD: Yes, we will have a Pre-Sale and it is possible to include in the White List. All you have to do is join Discord and invite 20 active members or reach level 20 on Discord by being active in the Community. There will be 4995 spots on the whitelist and everyone can mint two, which means NFTs could run out in pre-sale as we're holding back 10 depressed dragons to airdrop to 10 lucky starters once they run out.
Chris: Subsequently, what will be the price of each token in the presale? Do you have a pre-sale mintage limit for each whitelist member?
JD: I said this before, but each NFT in the Presale will be 0.1ETH + GAS and each person in the Presale will be able to mint 2 NFTs of Depressed Dragon.
Chris: Also, what is the post-sale payment scheme for the tokens? How much of the income will be withdrawn to pay the parents?
JD: At the end of Roadmap 1, each Holder will be airdropped an Undead Dragon and we have future plans in Roadmap 2 to airdrop a community cryptocurrency to each Holder. But at first, we will sweep the floor in Opensea for anyone who has their Depressed Dragon NFT listed for less than 5ETH and redistribute them to Headlines who don't have their Dragons listed and Headlines who have their Dragons listed for 5ETH. and more to give value to all our Holders.
Chris: Likewise, what else is planned for the future of Depressed Dragon Club investors?
JD: We don't want to discuss the second roadmap from now on and we want to focus on the 1.0 roadmap. Everyone can see the full roadmap on our Discord.
Chris: At the end, share more about the team behind the Depressed Dragon tokens. How many members are part of the core work team and how does each of them participate in the development of the token?
JD: The Depressed Dragon Club team consists of three people: myself (founder), my childhood best friend, Austin (co-founder and co-funder), and my father, who has a 20+ year career in graphic design (our artist). . Each of us has an influence on this project and we want to make it as big as possible and provide an investment opportunity for our Holders so that they can achieve financial freedom. We will work day and night and strive to be the next Bored Ape Yacht Club.
Source link